CLOSED WEDNESDAY, DECEMBER 21 and THURSDAY, DECEMBER 22, because of the cold winter weather.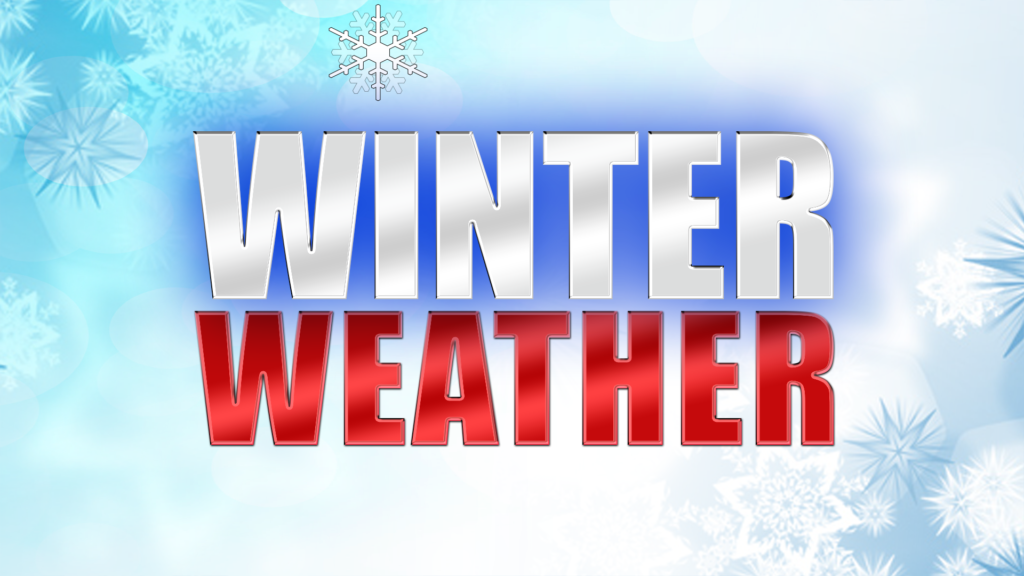 WINTER STORM WATCH NOW IN EFFECT FROM WEDNESDAY EVENING (Dec 21) THROUGH THURSDAY EVENING ( Dec 22)!
Check your local TV, radio and other news outlets for current information. Bitterly cold temps predicted. We cannot stress enough to layer your clothing & have a hat and gloves to cover exposed skin.
Check https://www.weather.gov/ and type in your city or zip code for weather details.
BABY CLOSET – The Baby Closet is a community service program operated by volunteers to help children and families in need in the City of Topeka, Kansas. Parents and legal guardians of children aged newborn to age five may receive help with a designated number of items each month, which includes clothes, diapers, disposable wipes, formula, and miscellaneous household items such as high chairs, strollers, and other necessities. Some limitations and restrictions apply.
PROGRAM REQUIREMENTS – Expecting mothers (within three weeks of the due date), custodial mothers and fathers, grandparents as parenting, custodial next-of-kin (e.g., aunt, uncle, etc.), and legal guardians may access the resources in the Baby Closet once per month. Bring a government issues photo identification card.
HOURS OF OPERATION:
Mondays | 9:00 am to 11:00 am
Wednesdays | 3:30 pm to 6:30 pm
Thursdays | 1:00 pm to 3:00 pm
---
---
COVID-19 PRECAUTIONS AND RESTRICTIONS – All persons – volunteers and guests – are required to obey all Emergency Public Health Orders, Restrictions, and Executive Orders issued by the US Federal Government Center for Disease Control and Prevention (CDC), the Governor of the State of Kansas, the State of Kansas Department of Health and Environment (KSDHE), and the Shawnee County Health Department, to prevent the spread of the Coronavirus (COVID) 19 and other health emergencies. Restrictions may include wearing a face mask or covering, proper hand-washing, maintaining social distancing, and limiting mass gatherings. Clothing selection time will be limited to fifteen minutes per visit. To find ways to prevent the spread of COVID-19, visit the Center for Disease Control and Prevent website at https://www.cdc.gov.
Questions? Leave a message on the Baby Closet voicemail at (785) 233-4241, extension 4.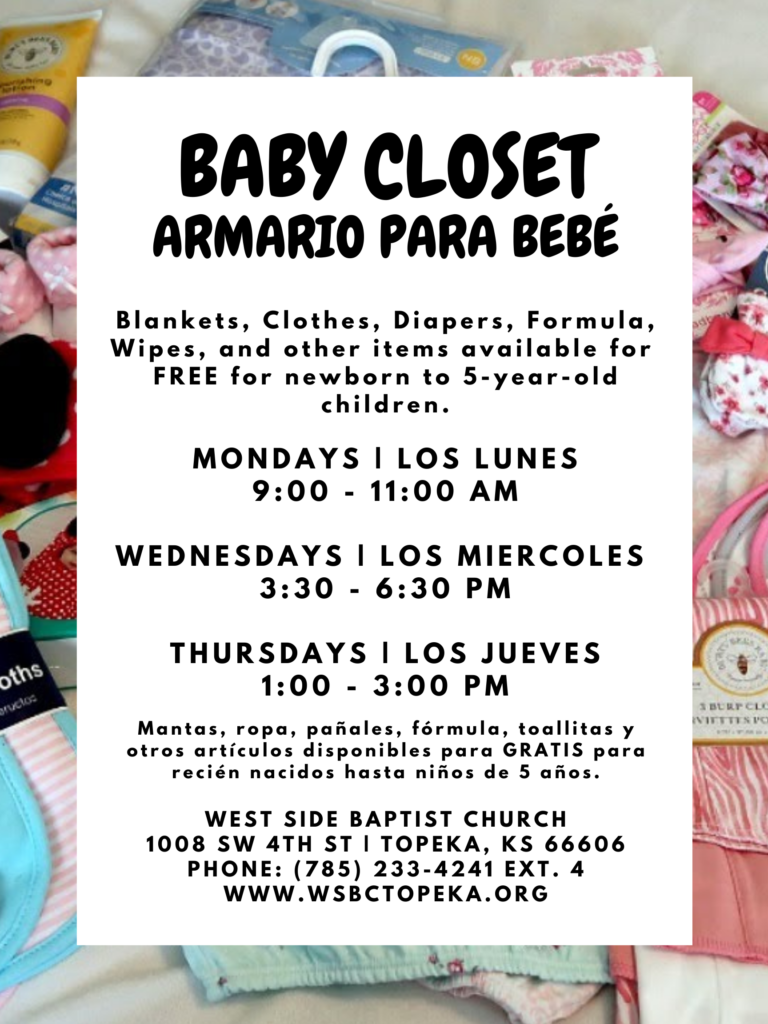 DONATIONS: Monetary donations, clothing, unexpired baby food, formula, and miscellaneous items are welcome from families, businesses, faith communities, social service agencies, and the community. Several families helped by the Baby Closet have given back to the program to keep the shelves stocked. We are grateful for all donations to help children in need. Please contact to Church Office at (785) 233-4241 to schedule an appointment to drop off your donations.
ANTI-DISCRIMINATION POLICY – The Church and its programs respect and honor all people, regardless of age, color, creed, ethnicity, gender expression, marital status, military obligations, national origin (ancestry), physical appearance (height, weight, etc.), physical or mental ability (handicap), race, religion (or no religious beliefs), sex, sexual orientation, or veteran status. The Church does not discriminate in the distribution of goods and social services. If you have experienced discrimination, speak with a program supervisor, or call the Minister at (785) 233-4241.