2023 ABCCR REGIONAL CHURCH CAMP
The 2023 ABCCR Camp Registration is now open! Our theme this year is Unshakeable Faith, and our theme verse comes from Hebrews 11:1.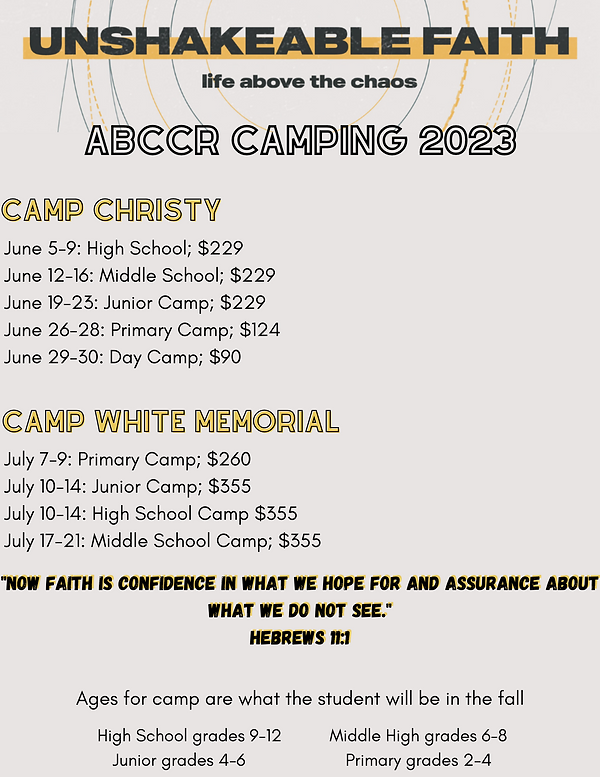 If you have any questions about payment or registration, you can contact Morgan Bandy at morgan.bandy@abccr.org.
Any other camp questions can be directed to Camping Coordinator Brandon Pitt at brandon.pitt@abccr.org.
​We can't wait for another awesome summer at Camp Christy and Camp White Memorial!
---
YOUTH QUEST CAMP
Quest Youth Camp is a remarkable, ridiculously fun, re-imagined way for youth groups and youth leaders to experience God, encounter Christ, grow closer as a group, and refocus! It is completely different than any other youth group experience. Quest is more than your average church camp with Bible study and worship, an expansive high ropes course, a climbing tower and zip line, amazing lakefront activities, and refreshing food and lodging.
One of the greatest things about Quest is that your entire youth group can come. The program is designed to include anyone who has completed 6th – 12th grade!
---
WSBC CAMP SCHOLARSHIP
WSBC Students may earn up to $100.00 in scholarship funds for one summer camp. Contact Christian Ed. for details.