The Bible teaches FIVE irrefutable TRUTHS about the material world:
OWNERSHIP: God owns everything. God created all things, including everything seen and unseen. People are simply managers of God's material world on God's behalf (Genesis 1-3; Psalm 24:1; James 1:17).
RESPONSIBILITY: God invites people to manage that which belongs to God. While God has graciously entrusted humans with the care, development, enjoyment, and protection of everything He owns, we are responsible for managing His holdings well and according to His desires and purposes (Genesis 1:28; 1 Corinthians 4:2; Colossians 3:23; 1 Peter 4:10, Titus 1:7).
ACCOUNTABILITY: Good managers use the gifts and material possession entrusted to them for their Master's glory, good, and benefit. God rewards or blesses good managers for the responsible, diligent, shrewd, and multiplying work they do, as we hear in Jesus' story of the Parable of the Talents (Matthew 25:14-30; Colossians 3:23-24)
RECIPROCAL: God gives graciously and freely to all people. Humans are to reciprocate – or give back to God – in the same way, God gives to us: graciously, generously, sacrificially, cheerfully, and joyfully (Acts 20:35; 2 Corinthians 9).
PROPORTIONAL: We have a need to give. God created humans with the ability to acknowledge, appreciate, and acclaim God's goodness and generosity! God tells us to give a percentage of our income back to Him on a regular basis (percentage-based giving). Some churches encourage "tithing first fruits" (giving the first 10% of one's income), while others emphasize giving over and above the tithe known as the "grace of giving" (Genesis 14:20; Proverbs 3:9-10; Malachi 3:10; 1 Corinthians 16:2; 2 Corinthians 8-9). The apostle Paul emphasized this: "whoever sows sparingly will also reap sparingly, and whoever sows bountifully will also reap bountifully." We encourage responsible, generous giving!
GOD is a GENEROUS GIVER!
GOD expects His People to be like HIM: joyful and generous!
---
GIVE GENEROUSLY TO GOD THROUGH THE CHURCH
The church is a trustworthy, safe place to invest your precious resources in the work of God in the world. West Side Baptist Church is a registered not-for-profit religious charity 501(c)(3) in the United States of America. Gifts may be tax-deductible. YOU CAN GIVE:
CASH or CHECKS – Donors can give each week in worship by cash, check, or debit card – or mail your gifts to West Side Baptist Church, 1008 SW 4th St., Topeka, Kansas 66606.
ELECTRONIC FUND TRANSFER (EFT) – See the Church Treasurer for setting up a reoccurring electronic fund transfer (EFT) for regular giving.
STOCKS, BONDS, INVESTMENTS, & SECURITIES – Contact the Church Office at (785) 233-4241 for easy instructions to transfer stocks, bonds, certificates, property, and other securities safely and securely as your donation.
ONLINE – Give online using the Church's secure and safe SQUARE Store at https://west-side-baptist-church.square.site. You may visit the church's secure online store to donate to the general fund, give to mission projects, produce items, or pay registration fees for programs and services.
IRA REQUIRED MINIMUM DISTRIBUTION (RDMs) – The US Internal Revenue Service (IRS) mandated an amount of money that investors starting at age 72 must withdraw every year from their retirement savings accounts, including traditional IRAs and employer-sponsored 401(k) and 403(b) plans. You have a tax advantage if you wish to make your tithe to the church from your RMD. Your tithe can be transferred directly from your IRA and is not considered federally taxable income for you. It's like getting a deduction because while the distribution counts towards your RMD, it is not included in your gross income. The key is asking for the amount of the transfer to go directly to West Side Baptist Church and not to you as the "middleman". You should talk with your financial advisor if you are qualified for an RMD.
WILLS, TRUSTS, & ESTATE GIFTS – Include West Side Baptist Church of Topeka, Kansas (Federal Tax I.D. – 48-0612483) in your will, trust, or estate plans. See an attorney for required documents or contact the American Baptist Foundation at http://abcofgiving.org.
VENMO – this online app makes it easy to give. Download the application (app) online at https://venmo.com or in the App Store. Sign up or sign in, and give. Click on the QR code below: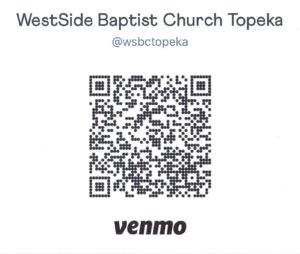 FOUR ANNUAL MISSION OFFERINGS
We cooperate in mission advocacy and support through the America Baptist Churches USA (ABCUSA).
---