Parenting the Love and Logic® Class starting November 30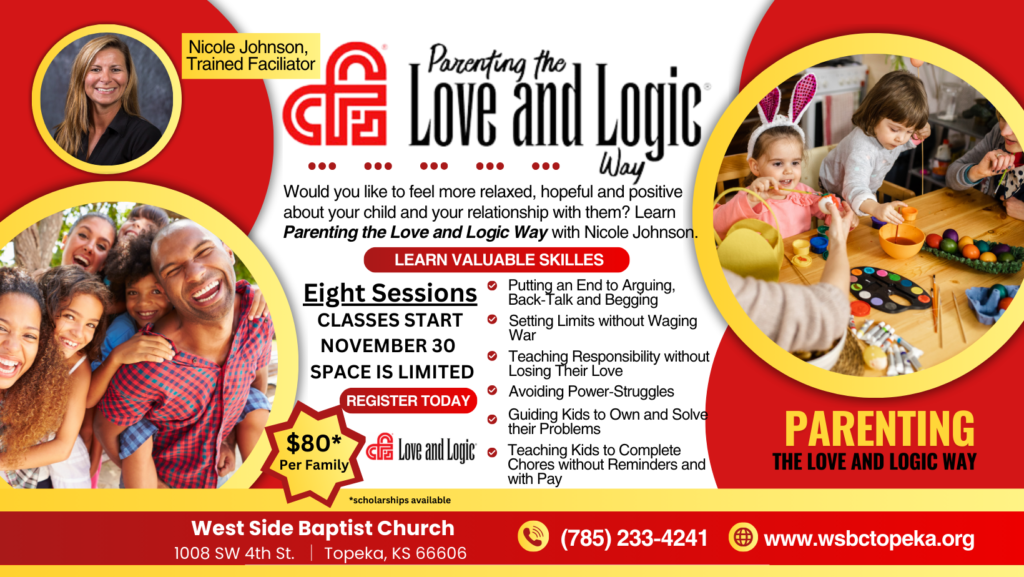 Would you like to feel more relaxed, hopeful and positive about your child or children and your relationship with them? Learn Parenting the Love and Logic® Way with trained facilitator, Nicole Johnson (previous Meadows Elementary Principal).
STOP THE STRUGGLES by LEARNING VALUABLE SKILLS in SAFE and SUPPORTIVE SPACE
You Don't Have to Parent Alone! We're Here to Help!
SCHEDULE: THURSDAY NIGHTS @ 7:00 – 8:00 PM
NOVEMBER 30 – Session 1: Putting an End to Arguing, Back-Talk, and Begging
DECEMBER 7 – Session 2: Teaching Responsibility without Losing Their Love
DECEMBER 14 – No Class – Winter Holiday
DECEMBER 21 – No Class – Winter Holiday
DECEMBER 28 – No Class – Winter Holiday
JANUARY 4 – Session 3: Setting Limits without Waging War
JANUARY 11 – Session 4: Avoiding Power-Struggles
JANAURY 18 – No Class (Small Group)
JANAURY 25 – No Class (Small Group)
FEBRUARY 1 – Session 5: Guiding Kids to Own and Solve Their Problems
FEBRUARY 8 – Session 6: Teaching Kids to Complete Chores without Reminders and with Pay
FEBRUARY 15 – Session 7: Conclusion & Celebration
*COST: $80.00 Per Family*
A Limited Number of Scholarships are Available
*SPACE IS LIMITED*

---