American Baptist Women's Ministries (ABWM) is a diverse community of American Baptist women and girls serving in ministry in Christ's name. With local, area, region/state, and national levels of ministry, AB Women's Ministries creates a community of passionately faithful, mission-minded women and girls engaged in worship, service, and friendship. AB Women's Ministries is part of the American Baptist Churches in the USA and is affiliated with the North American Baptist Women's Union, the Women's Department of the Baptist World Alliance, and Church Women United. ABWM does not actively meet at West Side Baptist nor have any active Circles. All women of the church belong to ABWM. Speak with me if you are interested in forming a circle or having a meeting.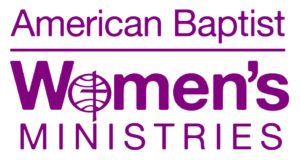 American Baptist Women's Ministries' 2021 mission focus was Covid-19 and related issues – COVID-19 has forever changed the world, and organizations must change with it to continue to support communities. As the number of those impacted by COVID-19 grows, goods become scarce, and unemployment rises, the need for spiritual support and guidance has become more pressing than ever. American Baptist Women's Ministries is seeking your help to better serve its communities and constituents. Amid COVID-19, many support services and programming in our communities are no longer available. Food pantries, afterschool programs, and daycare are not open. Supporting programs and systems for women and children have been altered or halted due to COVID-19.
ABWM supports the following areas of ministry and mission:
LOVE GIFT – Love Gift is an over-and-above offering that supports the American Baptist mission and ministry. Begun during the Great Depression, the denomination faced a deficit and the women challenged one another to raise enough funds to cover that deficit. They rose to meet that challenge and then some! Today, Love Gift is an extra gift to the United Mission support of the American Baptist denominational headquarters in Valley Forge. Through Love Gift, missions and ministries in the United States, Puerto Rico, and worldwide can reach out to millions of God's people through national staff. Donation boxes are available in the Church Office. We gave $335.00 to Love Gift in 2021.
ABWM NATIONAL SUPPORT – National Support provides opportunities for spiritual growth with 100 percent of your gift to National Support used for this organization to provide ministries that empower women and girls to serve Christ. Your gifts help provide programs, resources, and leader training for ministries with women and girls in your church, area, and region. National Support provides national staffing, speakers, conferences, retreats, program resources, and much more! When you give, you are partnering with us to provide ministry for women and girls in the US and Puerto Rico. Women who give $228 or more a year to National Support are recognized as Vital Partners.
ABCCR Special Project – ABWM of the Central Region (Kansas, Oklahoma, and Arkansas) have adopted Rainbow Acres as the 2021-2022 Special Project Recipient. Founded in 1974, Rainbow Acres is a Christian community with a heart that empowers adults with developmental disabilities to live to their fullest potential with dignity and purpose. We provide exceptional special needs housing, life-enriching programs, and loving, holistic healthcare in a safe, vibrant, inclusive ranch-style community. We are located in Arizona's scenic high desert of Verde Valley, just 1½ hours north of Phoenix and a short drive from Sedona. Our residents, affectionately called Ranchers, live, work, and socialize with their peers in a safe and caring environment. Love, hope, and faith create a community of authentic joy and growth.
ABWM/CR We will be raising $30,000 to help with this need including the following:

​Upgraded suite of new heavy duty and energy efficient appliances including electric stove/oven, microwave, dishwasher, refrigerator, washer, and dryer
Suite of Great Room furniture including large sofa with durable leather upholstery, dining room table and chairs ensemble to set 12 individuals, glider recliners (4) suitable for physical challenges, flat screen smart TV for entertainment and video/streaming education
Replace water heaters (4)
Replace HVAC heat pump
In 2021, WSBC ABWM donated $50.00 to the Special Project. You can give through the offering plate, online, or send your project money to ABWMinistriesCR, c/o Alice Gruber, 1768 K-106, Minneapolis, KS 67467 
WHITE CROSS – White Cross is a program through which American Baptists provide needed supplies to diversified ministries within the mission program of American Baptist Home Mission Societies (ABHMS) and International Ministries. It is essential to support the work of both American Baptist Home Mission Societies and International Ministries. It is the joining of mission center workers with local church workers in a united ministry and it is an avenue whereby we as Christians can show our interest in and love for persons of all races and nationalities. White Cross dates back to April 1919 when women in Ohio organized a mission society called the White Cross Service League. Later that year, both International Ministries and AB Home Mission Societies adopted the White Cross Service program and decided to unite the efforts while keeping two divisions, "overland" and "overseas."
Overseas White Cross – Through International Ministries, Overseas White Cross supports the work of our missionaries and our mission partners in the Democratic Republic of Congo, India, the Philippines, and Thailand as they serve in programs of education, evangelism, community service, and medical care. White Cross also goes to support missions in Myanmar, Haiti, El Salvador, Nicaragua, and the Dominican Republic, Bulgaria, Burundi, Cambodia, China, Chile, Cuba, Panama, Republic of Georgia, Liberia, Palestine, Romania, and Rwanda. Items requested through Overseas White Cross included roller bandages that are sent to the Congo as well as other handmade items and monetary gifts.
Overland White Cross – Through AB Home Mission Societies, the new Operation Planting Hope (OPH) program, which will continue the tradition of White Cross Overland, will expand ABHMS' reach, providing opportunities for more ABHMS' mission partners to benefit from financial and hands-on support. An innovative model, OPH extends outreach to a wide range of related partners focused on healing and transformation, while streamlining the connection among American Baptist churches and vulnerable communities. It offers a fresh approach for individuals and groups to serve ABHMS' Community Outreach Ministries partners, the Rizpah's Children network, and many other missional entities. It eliminates cumbersome paperwork, mailing and copying, while broadening opportunities for volunteerism.
---
SPECIAL INTEREST MISSIONARIES – Our ABWM circles are assigned the following special-interest missionaries
International Special Interest Missionaries 2021-2022:
Juan & Denise Aragon (Mexico)
Rev. Dr. Dan & Sarah Chetti (Middle East)
John & Amanda Good (Hungary)
Drs. Richard & Anita Gutierrez (South Africa)
Gordon & Lee Ann Hwang (Japan)
Eric & Yuree Lembke (Thailand)
Rev. Keith & Debbie Myers (Mexico)
Larry & Rebecca Stanton (Hungary)
Emerson & Ivy Wu (Asia)
Send all mail to: Missionary's Name, % International Ministries, 1003 W. 9th Ave., Ste A, King of Prussia, PA 19406-1210
Home Special Interest Missionaries for 2021-2022: Send mail directly to the homeland agency:
Betty Martin, Executive Director at Murrow Indian Children's Home (Muskogee, Ok)
Mang Sonna & Nem, Executive Director of Bethel Neighborhood Center (Kansas City)
---
2021-2023 Ministry Focus: "Let the Walls Fall Down" – In 2019, the American Baptist Women's Ministries (ABWM) national board deeply reflected on the Ministry Focus for the next few years. They desired to implement a Ministry Focus that expressed our hopes for ABWM to thrive as a transformational space for spiritual growth and unity. The focus needed to be broad enough to inspire our sisterhood, challenge us to take necessary risks to move forward, and help us grow internally and externally. We wanted our witness in the world to be kingdom-building and life-affirming. We considered our history the need to continue championing women's equity, wellness, and wholeness. In 2019-2021, after prayer, the Ministry Focus was determined to be Sister Seeking Wholeness.
Find more information about ABWM at https://abwomensministries.org.