JOIN the FUN at 2023 Monumental Vacation Bible School at West Side Baptist Church. Go off-road for a Monumental adventure through the colorful canyons and sunbaked trails of the southwest. Kids form a rock-solid faith for the road ahead by exploring God's awesomeness.
DATES: Monday – Friday, June 5-9, 2023
TIMES: 5:30 – 7:30 pm (free supper at 5:30 pm *All Food is available at no cost*)
LOCATION: West Side Baptist Church, 1008 SW 4th St., Topeka, Kansas 66606
CONTACT: Phone (785) 233-4241 or Email: Office@wsbctopeka.org
WEBSITE: www.wsbctopeka.org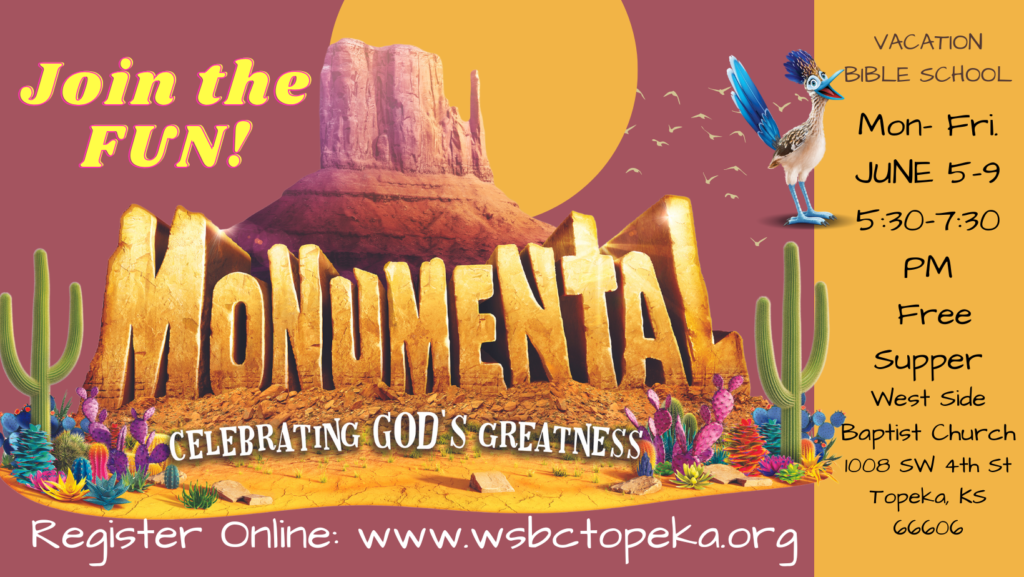 Supper will be served at 5:30, and activities will begin at 6:00. Children who have completed Kindergarten through 8th grade are eligible to attend. Register Online or Call the Church Office. Be sure to invite your neighbors and grandchildren. Thanks to everyone who has volunteered to help. We still need additional volunteers, so if you want to be a part of this special ministry, contact the Church Office (office@wsbctopeka.org).