CANCELATION: Wednesday Supper and WWW Kids Bible Club canceled on Wednesdays, January 12 and January 19, 2022
Kids Sunday School – Sundays at 9:15 am: Students in preschool to young adults are encouraged to join a small group Bible class on Sunday mornings at West Side Baptist Church.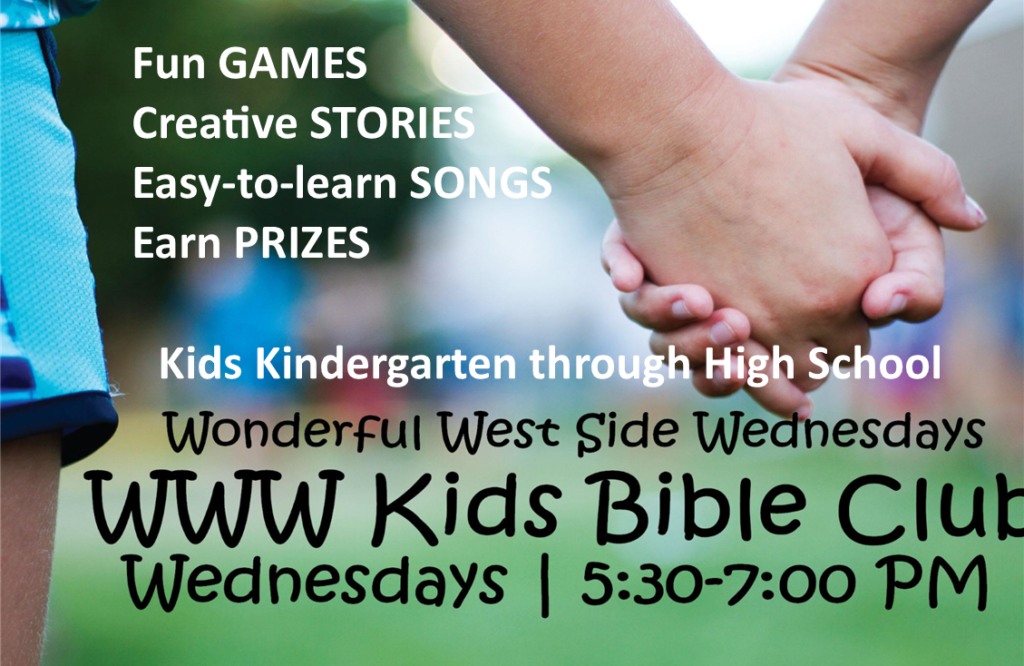 WWW Kids Bible Club – Wednesdays 5:30 to 7:00 pm (September 1 thru May 8) – Students in Kindergarten thru Senior High school are invited to Wonderful Wednesdays at West Side (WWW) Kids Bible Club. A free supper will be served from 5:30 to 6:00 pm in the Fellowship Hall (cafeteria). The evening is filled with FUN games, creative Bible stories, easy-to-learn SONGS, and Bible Buck STORE where kids can earn treats and prizes. Need a RIDE? Call the Church Office at (785) 233-4241.
UPCOMING SCHEDULE:
December 08 – Children's Christmas Program for the Whole Family
December 15 – No Kids Club – Christmas Break
December 22 – No Kids Club – Christmas Break
December 29 – No Kids Club – New Year's Break
January 05, 2022 – Kids Club at 5:30 pm
January 12 – Kids Club at 5:30 pm
January 19 – Kids Club at 5:30 pm
January 26 – Kids Club at 5:30 pm
February 02 – Kids Club at 5:30 pm
February 09 – Kids Club at 5:30 pm
February 16 – Kids Club at 5:30 pm
February 23 – Kids Club at 5:30 pm
March 02 – Kids Club at 5:30 pm
March 09 – Kids Club at 5:30 pm
March 16 – No Kids Club – Spring Break
March 23 – Kids Club at 5:30 pm
March 30 – Kids Club at 5:30 pm
April 06 – Kids Club at 5:30 pm
April 13 – Kids Club at 5:30 pm
April 20 – Kids Club at 5:30 pm
April 27 – Last Kids Clup for Spring/Summer: Carnival
September 7 – Start of Kids Club for Fall/Winter at 5:30 pm